Wedding photography - Incredible party... on a Friday!!!!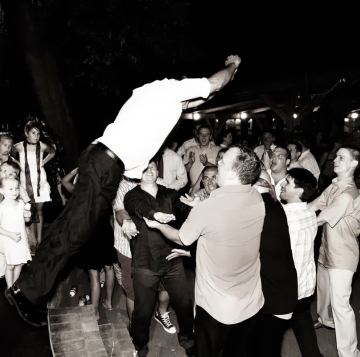 At the bridal shows I met many couples who decided that they won't have their wedding on a Saturday. Many of them chose this way when in January, as the planning starts, they realized that the really good vendors have already been booked for most of the summer, so Staurdays are no longer available at the favorite ones. Luckily, the wedding does not have to be postponed for a year because of that. And you don't need to compromise on vendors either. The solution does require a little flexibility, but almost guarantees a super wedding: do a Friday wedding! These article is for those, who encountered the problem of already booked photographers, venues, bands and other vendors... so you sort of thinking about a Friday wedding, but are a bit afraid of it still. And I hope there will be a few of you who - after learning all the benefits - will put your wedding on a Friday on purpose! So let's see, what are the three best things in a Friday wedding?
1.: It is a lot more likely that we are available for your big day if it falls on a Friday. Same is true for your favorite band or DJ, Master of Ceremony, etc...
2.: Usually on a Friday, the ceremony starts at a bit later time of day, which means that we have plenty of time for our creative photo session before that! Plus, we don't have to shoot with the bright, harsh summer sunlight just because we have to be at the ceremony by 3... Before a 5 o'clock ceremony, we can take some pretty amazing photos, let's say from about 2 to 4:30! 
3.: As we experienced, the subconscious mind in every guest's head keeps telling them all day: "It is a Friday, I am gonna finish work a bit early today and after that we're gonna have a great big party!" And they do just like that! Since they will have their whole weekend to rest, they enjoy the party more, and there are some absolutely amazing parties on a Friday! And if the guests are that happy, that gives us plenty of great photo opportunities.
Of course there many more reasons why it is great to have a Friday wedding. To get to know all of them, and to get a few ideas, visit the page pentekieskuvo.hu, where a team of "Friday believers" will make all your doubts go away! 
So let's have a great wedding and an even greater party together... on a Friday!
Vissza